50+ Free Unique Bootstrap Templates to Download in 2023
Are you searching for free bootstrap site templates for your website? To facilitate your development procedure and to make things easier for you, we have handpicked some of the best free Bootstrap Templates on this page. Here you will find business templates for landing pages, portfolio websites, apps, software, medical websites, restaurant websites, SaaS websites, and much more. You can either buy the professional bootstrap template or download a website template for free.
It is not yet clear to some of you, but Bootstrap is a framework that includes CSS, HTML, and JavaScript code that allows us to create professional-looking user interfaces and page layouts without knowing how to do certain design tasks. To create the components we want to use, we simply need to learn how to use the Bootstrap utilities.
Why Choose Bootstrap?
Among Bootstrap's many features, there are utilities to build all types of user interfaces for web pages, ranging from simple interfaces, such as a login form, to more complex interfaces, which could include forms, tabs, and drop-down boxes, navbar, etc. Besides creating layouts and templates, Bootstrap offers the flexibility of placing elements wherever desired. Every single thing is designed in a way that's adaptive, which is commonly referred to as Responsive Web Design. Using Bootstrap Templates, we can turn a PSD or any graphic web design into a bootstrap-compatible template.
Bootstrap is a powerful tool that you can use to quickly adapt a site to any type of device, which is one of its main functions. In addition to the ability to adjust the size and position of any element, any component of the application can be adapted to the dimensions of a particular screen. Content can be arranged from one to twelve columns wide in response to changes in screen size or browser window. As a result, any design on a Bootstrap site will be responsive.  
Bootstrap Professional Website Templates For Free
A diversity of factors have contributed to the rise in popularity of Bootstrap templates in recent times. Not only do these templates fit a range of business profiles, but they also facilitate the process of designing and developing a website without the need to hire a professional developer. Consequently, these best free bootstrap templates can produce significant cost savings for entrepreneurs who are just starting out with their startups. We've compiled a list of the top and best free bootstrap templates available in the market right now, so you can choose which one is best for your business needs.
Best Free Unique Bootstrap Site Templates to Download in 2022
---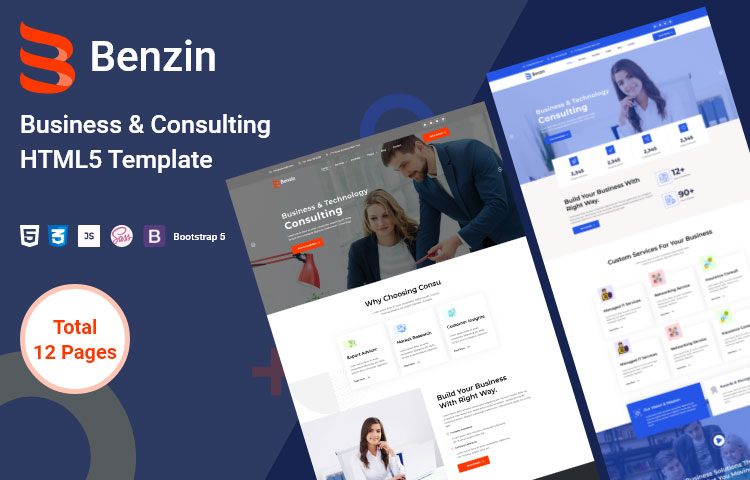 Suitable for agencies and businesses, you can use this template for consulting and agency websites. The template contains all necessary elements and sections with the most recent version of Bootstrap 5. In addition, Benzin offers a clean, contemporary design that will complement your next consulting website. There are two different Homepage versions available with a Sticky Navigation Menu and Slick Slider. They will help you to make your website stands out. This multipurpose template is fully compatible with any browser and device. You can download this template for free from the link given below.
---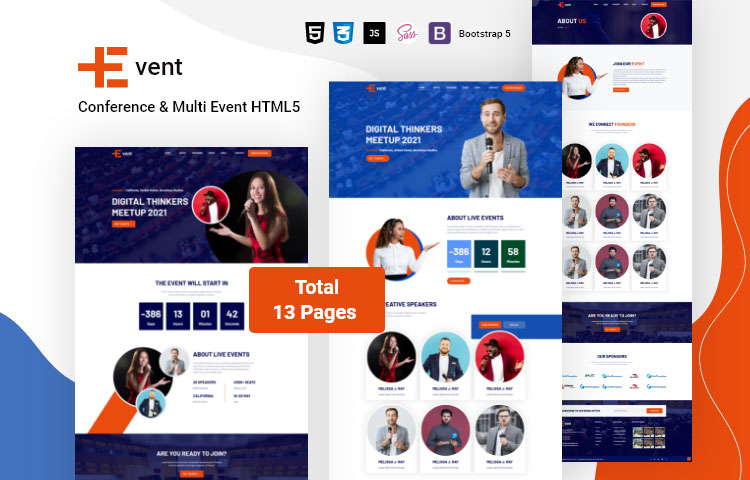 Are you looking for a website template for an event, seminar, meetup, or conference? Then you have come to the right place. It provides everything you can possibly need to create an impressive event website, making it one of the best free templates on the list. Event Conference & Multi-Event is a high-quality event template that is both fresh-looking and trendy. Using this template, you can launch a complete event webpage. Furthermore, this template is suitable to meet the requirements of events, conferences, and seminars. You can download this template for free from the link given below. You will find it as a free bootstrap site templates. 
---
The SaaS IT Expert is a free bootstrap with 5 templates for website design. It pays special attention to SaaS, business, and software websites and landing pages. For all the purposes mentioned above, this template so great. Additionally, we recommend it as the best free bootstrap site templates.
Additionally, SaaS IT Expert has a high-quality landing page design that is fresh and eye-catching. Furthermore, this bootstrap 5 template is optimized for any kind of device and completely responsive across all browsers and devices. You can download this website template for free from the link given below.
---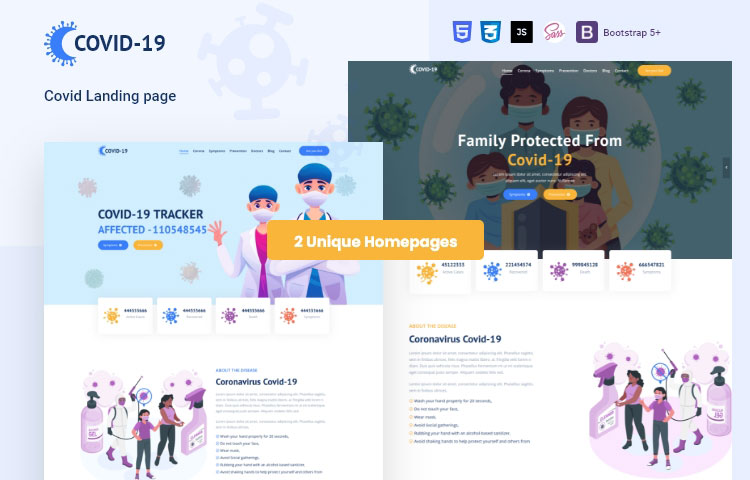 Covid-19 is a free HTML template that you can use to quickly set up websites designed for the awareness and prevention of Coronavirus. Not only websites, but you can also use them for the creation of landing pages. You can also use it to create awareness pages to help the community and spread awareness among them. The best thing about this template is that it is easy to customize and responsive on all devices and browsers. You can also use it for making landing pages of other diseases and medicines. If you want to buy a professional website template for making awareness websites for Covid then it is best for you. You can also download this website template for free (Free Version) from the link given below.
So that's all from the free bootstrap site templates review guide. We hope you have got enough information that will be crucial for your website development process.